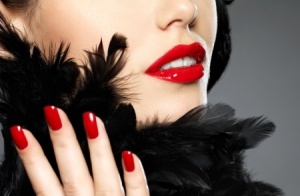 Did you know that when you meet someone for the first time they look at your face and then look at your hands? Your hands and fingernails can tell so much about you and are such an important part of a personal grooming routine. Manicures can make your skin look softer, smoother and younger looking. A manicure can also be very relaxing and an inexpensive way of pampering yourself. Check out our special below! The Classic Perfect Pinky Manicure has 5 steps:
1. Nail shaping – This is where you would determine the length and shape of your nails. Using an emery board and possibly nail clippers, your nails will be trimmed and shaped just the way you like them. Fragile tips can be repaired or prevented by having this done professionally.
2. Cuticle Care – Cuticle conditioner is applied and then the nails are soaked to soften the cuticles so that they can be gently pushed backed to give a clean sleek look around the nail bed. Although it is okay to trim any loose unwanted cuticle it is very important not to cut the cuticle off as it is the barrier that provides protection against bacteria.
3. Exfoliation – Are your hands looking tired and dull? Exfoliating will certainly enhance the way the skin looks by removing all dead skin cells leaving your hands looking vibrant and fresh.
4. Massage – With the use of oils and creams, the hand massage is the best part. 🙂 It helps to relieve stress, relaxes the muscles in the hands and fingers, increases circulation and also helps to improve the texture of the hands and nails.
5. Application of polish – A base coat or nail hardener will help protect and provide the base for the nail polish so it is applied first. Now the fun part….with numerous colours to choose from; blue to pink to red or just keeping them natural looking with a french polish …the sky is the limit. Now we seal the deal with a protective top coat to help the durability of the polish.
Looking for that extra special way to treat your hands? Add on a paraffin treatment. This is a heat therapy that can help to soften and smooth the skin on your hands. Paraffin can also help to relieve some of the pain caused by arthritis in the hand and fingers. Paraffin will also aid in moisturizing really dry skin.
Voila…treat yourself today….you are worth it!!!! From today until September 30th, 2014, mention this blog post and enjoy a regular manicure for the price of $20 (normally $23). Not valid in conjunction with any other offers or on specialty manicures / or specialty manicure services.

We'd love to hear from you. You can connect with us via email or telephone, leave a comment right here on the site, or click the contact tab at the bottom of the screen if you are reading this post on the website.
until next time,
Jana
http://aperfectpinky.com/wp-content/uploads/2017/04/PP-Logo-300x150.png
0
0
Jana
http://aperfectpinky.com/wp-content/uploads/2017/04/PP-Logo-300x150.png
Jana
2014-09-16 07:01:16
2014-09-30 08:06:40
The Perfect Manicure in 5 Steps