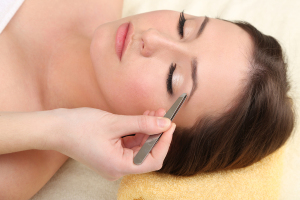 The eyes are the "windows to the soul". We see everything through them. Framing them with our eyebrows can enhance our natural beauty but shaping them can sometimes be challenging. While fashion sometimes dictates how we choose to look, in the case of eyebrows, it is more important to work with your natural shape. We can shape them in a thin line or wear them more natural. The important thing is making sure we follow a basic rule of thumb… The space between your eyebrows should never exceed the width of one eye. Follow these guidelines to build your perfect brow.
Using a tongue depressor follow these steps:
Step 1
Measure from the corner of the nostril straight up to the inside of brow. This is your guide for how much hair can be removed at the bridge of the nose.
Step 2
Measure diagonally from the corner of the nose to the outside of brow (following the angle of the eye). This is how far the brow should extend to .
Step 3
Remove unwanted hair from within these parameters. When tweezing, remove hair from the furthest point away and work inwards until you reach the desired effect.
Now you know the basics! You can also consider seeing a professional to have your brows tinted and/or waxed. Sometimes we get grey eyebrows and tinting will hide the grey for approximately four weeks. It also helps frame eyes by darkening very blonde brows. Whatever you decide to do, remember these simple steps to building that better brow.
With Thanksgiving around the corner, this is a perfect time for family photos and we know you will want to look your best. For the month of October, we are offering a 20% discount* on eyebrow tinting and waxing. Please contact us now to book your appointment!

We welcome your feedback! You can reach us by phone or email, leave a comment right here on the site or click the contact tab at the bottom of the screen if you are reading this post on the website.
Until next time,
Nicki
*Not valid in conjunction with any other offers
http://aperfectpinky.com/wp-content/uploads/2017/04/PP-Logo-300x150.png
0
0
Jana
http://aperfectpinky.com/wp-content/uploads/2017/04/PP-Logo-300x150.png
Jana
2014-09-30 08:07:42
2014-10-15 09:09:02
How to Build a Better Brow