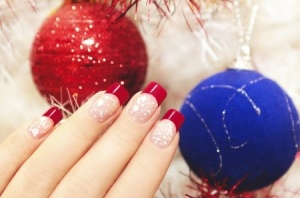 Are you a nail biter? Do your nails split and crack? We can help you!! Thanks to acrylics, taking care of nails is easy and convenient. Whether you are a nail biter or your nails peel, chip or split, acrylics could be the answer. In a matter of an hour spent with a professional nail technician at a reputable salon, you can leave with beautiful nails. Below are 6 reasons to try sculptured acrylic nails:
1.  If you are a nail biter, acrylic nails will help you to quit the bad habit. Its hard to bite acrylic because of its strength.
2.  Acrylic nails are stronger and more durable than natural nails and do not break as easily.
3.  If you polish them, the nail polish stays on for two weeks …. no worries of anything peeling or chipping off.
4.  The nail polish dries on acrylic nails way faster than natural nails … probably in half the time.
5.  The acrylic nails last longer than a natural manicure.
6.  The acrylic is easy to remove.
Acrylic nails are easy to apply, easy to maintain and look extremely nice. Your nails will have a manicured look for days after they are applied. If the nails are done properly by a professional, there is very little buffing and no damage caused to the natural nail. These sculptured acrylic nails are glue and plastic tip free, and are applied with a liquid and powder contoured to your own nail shape, which makes them look very natural.
With the holiday season just around the corner, all the parties and get togethers will have many people beginning to think about taking care of their nails and picking out holiday colours that are festive and match their outfits. Have you noticed that as soon as we meet a new person the first thing they look at is your face and secondly they look at your hands and fingers? It is so important to have our hands and fingers looking polished and groomed so we can show them off and not be embarrassed.
But, before booking your appointment here are a few things to consider:
1.  Make sure you are going to a reputable salon that follows all of the Ministry of Health regulations.
2.  Make yourself aware of the proper hygiene and safety procedures.
3.  Look at the overall cleanliness of the salon.
4.  Make sure the salon gives you your own nail files for the appointment and that they are not re-using them.
5.  Ensure that all drill bits and tools being used on you are properly disinfected.
If you are struggling with your own nails give the sculptured acrylic a try…you won't be disappointed. You can now show off those beautiful gems holding your favourite holiday cocktail. We'd love to help you create that special look!!!
As always, we welcome your feedback.  You can connect with us via email or telephone, leave a comment or question right here on the site, or click the contact tab at the bottom of the screen if you are reading this post on the website. We look forward to welcoming you into the salon!
Happy Holidays and Cheers,
Jana

http://aperfectpinky.com/wp-content/uploads/2017/04/PP-Logo-300x150.png
0
0
Jana
http://aperfectpinky.com/wp-content/uploads/2017/04/PP-Logo-300x150.png
Jana
2014-11-25 08:15:45
2014-12-09 12:43:24
6 Reasons to Try Sculptured Acrylic Nails