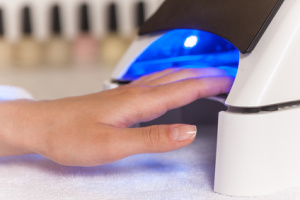 Are you tired of your polish chipping and peeling after only a few days??? So many women are. It's very frustrating when you spend time and money to have a manicure and then after only a few short, the polish starts to chip and peel. Have you ever tried a shellac polish? We think it's a miracle manicure!
Shellac polish has made life so much easier and much more convenient. Shellac is smudge proof nail colour that lasts. It brushes on like regular nail polish. The nail is prepped in the same manner as a classic manicure. One of the most convenient advantages is that it dries instantly after being cured under an ultra violet light. You can leave the salon right after your shellac polish is finished and it is completely dry. For this reason a lot of clients choose to put shellac polish on their acrylic nails as well.
Having a pedicure with shellac polish is also very popular. In the summer you don't have to worry about it chipping or wearing off in the sand at the beach. In the winter right after your pedicure has been completed, you can slip your feet right back into your socks and boots and be on your way!
Steps in a Shellac Manicure:
1. The nail is prepared by manicuring and gently pushing back the cuticle. This manicure is a dry process …meaning no soapy water is used. It is really important to keep the nail dry so the shellac adheres properly to the nail.
2. The nail is then completely dried off and gently buffed to prepare for the shellac polish.
3. Polish….the shellac is now applied in 4 steps; a base coat, 2 coats of polish and a top coat using the UV light after each step. Each step is equally important as the next for a proper finished look. Not happy with the colour choices?? Create your own by layering different coats of shellac colour. A red base and a pink over top could give you that special colour that you were looking for.
4. After all coats of polish are applied the nail is wiped clean with a cotton pad and special solution.
5. You are now ready for your hand massage. The best part!! No manicure is complete without it.
Voila! You are now ready to carry on with your day…. care free of ruining your polish.  SHELLAC IS QUICK, EASY AND YOU'RE OUT THE DOOR – Just what the busy ladies of today have been looking for.
Treat yourself today!! You deserve it.
As always, we welcome your feedback.  You can connect with us via email or telephone, leave a comment or question right here on the site, or click the contact tab at the bottom of the screen if you are reading this post on the website. We look forward to welcoming you into the salon!
Happy Holidays!!
Cheers,
Jana
http://aperfectpinky.com/wp-content/uploads/2017/04/PP-Logo-300x150.png
0
0
Jana
http://aperfectpinky.com/wp-content/uploads/2017/04/PP-Logo-300x150.png
Jana
2014-12-09 12:43:44
2015-01-13 10:31:53
Shellac - The Miracle Manicure