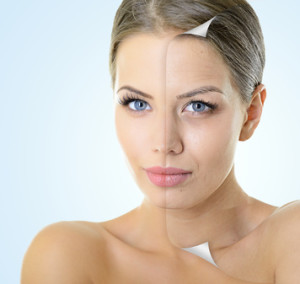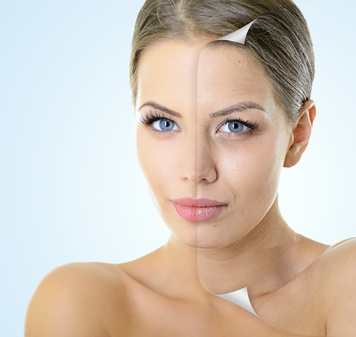 The hustle and bustle of Christmas is over and now we are starting to prepare ourselves for the New Year. What has the New Year got in store for us? What changes can we make in our lives to make it better? Some of us start to think about our New Year's resolutions. One of the things that many people make as a resolution is to take better care of themselves.
The top 3 things that fall into this category are diet, exercise and personal grooming. When we are eating better and exercising, it also shows in our personal grooming. Our whole body looks better; our nails, our hair and our skin. Did you know that your skin is the largest organ in your body? Our diet will affect the appearance of our skin as it is a reflection of our total body health.
Is your diet helping or hurting your complexion? What we eat matters as much to our skin as it does to our waistline. A nutritious diet that keeps your insides healthy will also help to keep your outward appearance looking good.
There are wrinkle fighting antioxidants in fruits and vegetables and the healthy fats in fish and avocado will aid in hydration. A nutrition expert can help guide you to eat the foods that will support healthy, smooth skin and what foods will lead to blemishes, wrinkles and rashes.
Another leading factor in healthy skin is making sure to take care of it on the outside. This includes doing a proper skin care regimen daily. It can be as simple as cleansing and moisturizing morning and night to using a eye cream, throat firming cream, wrinkle control creams etc. Even the most basic skin care regimen will help your skin look healthy and radiant.
Treating yourself to facials either monthly, bi-monthly or even by the season will also really help to give your skin that natural glow that you've been seeking. Facials are a great way to start a new skin care system and give yourself that push start that you may need. A facial will also help to detox your skin after the holidays and relax you after such a busy holiday time.
So when thinking about the New Year, consider making a resolution that will benefit you not only on the inside but will also have you looking radiant and fresh all year long. We owe it to ourselves to take better care of our skin and give ourselves the gift of health.
May 2015 bring everyone peace, good health, happiness and prosperity!!!
Cheers,
Jana
http://aperfectpinky.com/wp-content/uploads/2017/04/PP-Logo-300x150.png
0
0
Jana
http://aperfectpinky.com/wp-content/uploads/2017/04/PP-Logo-300x150.png
Jana
2014-12-30 12:42:39
2015-06-24 13:21:10
Taking Better Care of Ourselves in 2015