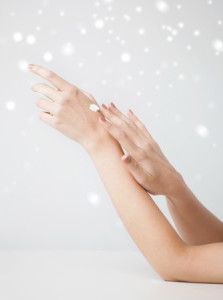 Winter… Not everyone's favorite season, especially when it comes to dry, cracked, or itchy skin. But since we live in a country where we face winter for a good part of the year, we need to learn and practice proper preventative skin care measures to deal with the harsh weather. Whether it's your face, hands or your whole body right down to your toes, there are numerous products and procedures that we can utilize to help us survive the cold here in Ontario.
Let's start at the top; our face. The best defense against the cold for our face is to make sure our skin is properly cleansed, toned and, above all, moisturized. (Check out this earlier post too for more information on skin care in the colder months!) This should keep things in check. Make sure your moisturizer contains an SPF as well. That's right. Even in winter, our face is exposed to the wind, cold temperatures, and yes, the sun!
Now, let's not forget our torso and extremities. There's nothing worse than getting an itch where you can't reach it – especially when you're so bundled up you can hardly move! The best defense for this in the harsh months of minus zero, is to dry brush your body before you get in the shower with a sift bristled body brush. Then moisturize right after your shower with an emollient that locks in your moisture and lasts for at least 12 hours. That should help keep the "scratchies" at bay.
And last our hands and feet. No question about it – our hands and feet really take a beating in winter. Since it is cold and flu season, we are constantly washing our hands. But are we consistently exfoliating and reapplying hand cream? If your hands look and feel dry, maybe cracked and tight, I'm guessing that's a 'No'. Cracked skin is not only painful but also a portal for bacteria to enter the body so proper hydration is so important. Exfoliating your hands with an oil-based scrub and then using a rich, easily absorbed hand cream is a must for the season.
As an added benefit, many of our clients opt for a warm paraffin treatment after the application of cream. It helps to lock in moisture so your hands will feel super silky. And all this can be done to your feet too! Nothing feels better than knowing our bodies are hydrated properly to battle the coldest months of the year. You'll look and feel so much better!
We welcome your feedback! You can connect with us by phone or email, leave a comment right here on the site, or click the contact tab at the bottom of the screen if you are reading this post on the website.
Cheers,
Phyllis
http://aperfectpinky.com/wp-content/uploads/2017/04/PP-Logo-300x150.png
0
0
Jana
http://aperfectpinky.com/wp-content/uploads/2017/04/PP-Logo-300x150.png
Jana
2015-01-13 14:51:21
2015-06-24 13:20:42
Preventing Dry, Cracked, Itchy Skin - Surviving the Cold in Ontario