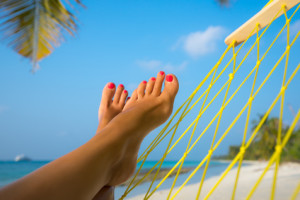 Going on a beach vacation? It's always a good choice to get our services done before we go south so that we can hit the beach ready to go. Below are 3 things you may want to consider if having any aesthetic services done in another country as well as these 5 helpful tips to make your beach holiday an enjoyable one.
1. Pedicures
Pedicures are a must before slipping your feet into those fabulous sandals but make sure when you are receiving your pedicure before leaving on vacation, that you tell the aesthetician where you are going and what you will be doing. Sand is a natural exfoliate so the aesthetician should take caution when removing dead skin on the bottom of your feet. If too much skin is removed and you will be walking in the sand, it may make your feet very sensitive and dry. A little bit of callous should be left on the bottom of your feet to allow for that natural exfoliation to take place. The sand, sun and the salt water will really dry out the skin on your feet so make sure to moisturize daily and avoid dry discomfort.
2. Polish
When choosing the nail polish colour for your toes, always go with a shade darker. The sun will fade the colour and make it lighter. Also, beware of choosing a colour that is very light or a French manicure. These shades may yellow in the sun.
3. Spray Suntan Lotions
Spray lotions will often cause the polish to get sticky. You are better to be safe than sorry and use the old fashioned kind of lotion that you squeeze out of the bottle. Rub on with the palms of your hands.
4. Eyebrow and Eyelash Tinting
Do you find it hard to go to the beach without a little bit of make up on? I do…that's why getting your eyebrows and eyelashes tinted before going away is a great alternative. Your eyelashes will have colour just like wearing mascara without having to worry about 'racoon' eyes from sweating or water splashing on your face.  Eyebrow tinting darkens your eyebrows just enough to lift your eyes and brighten your face. It's amazing how eyebrows frame our face as well. No messy eyebrow pencils to worry about on this vacation!!
5. Waxing
Ohhh Yes…the necessary evil if you will. Nobody likes it when it has to be done but boy oh boy don't you love it when you are away and don't have to worry about razors or rashes? Always get your waxing done a couple of days before you go on your vacation. It is very important to know that waxed skin should not be exposed to the sun for 24 hours. Premature exposure can cause the skin to burn more quickly or develop a rash. It's also never a good idea to wax for the first time right before you are going away. A few days in advance will give your skin the time to adjust. Always make sure that waxed areas are covered with sunscreen to protect the area. Waxing will remove dead skin cells which make the skin more sensitive to the sun.
Here are 3 good reasons why you should consider getting your spa/aesthetic services done before you leave home.
1. Health Regulations
Every country has different health regulations. Canada has great health and safety regulations for the beauty business and we are very fortunate that we don't usually  have to worry about any unwanted bacteria or contagious diseases. Therefore It is better to plan ahead and get your bikini body ready before heading on vacation instead of taking a chance on any spas that may not conform to the same health regulations that you are familiar with.
2. Time
You've spent a lot of time and money planning your vacation. Why waste more time scheduling or inside a spa during your vacation? Spend that precious time at the pool/beach or on that special excursion instead. Go prepared and don't waste a minute of your vacation time.
3. Cost
Usually salons and spas on cruises or in resorts are very costly; A lot more than the salon that you go to at home. The salons in the resorts get booked up very quickly as well. No need to get there and be disappointed that you can't get an appointment or maybe you can, but it is 2 days before returning home.
Hopefully you have found these tips helpful! As always, we welcome your feedback. You can connect with us via email or telephone, leave a message here on the site, or click the contact tab at the bottom of the screen if you are reading this post on the website.
We look forward to welcoming you here at a Perfect Pinky to help you get ready to go on your beach vacation!!!!
Until next time,
Jana
http://aperfectpinky.com/wp-content/uploads/2017/04/PP-Logo-300x150.png
0
0
Jana
http://aperfectpinky.com/wp-content/uploads/2017/04/PP-Logo-300x150.png
Jana
2015-03-03 14:38:59
2015-04-09 12:49:32
8 Helpful Spa Tips Before Heading Out to a Beach Destination