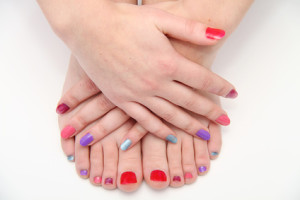 SPRING HAS SPRUNG!!! Off come the gloves and boots and it's time to show off our fingers and toes. There are so many nail polish colours to choose from. Here at A Perfect Pinky we have a rainbow of colours to choose from. Did you know your nail polish colour can say a lot about your personality?  Below are some ideas about colour choice and what they say about you!
Sometimes we consider what season it is; where we are going and what we are wearing but colour also unconsciously affects our minds; it's an innate reaction. Just one glance can give visual stimulation and affect our mood. Whether it is pink, red or blue, each colour can trigger an emotional reaction.  For example the colour red will increase your heart rate because it's very stimulating.
So, what is your nail polish choice saying about YOU?!!!
Fire Red
Your mood is sexy and energetic
You have confidence
You love attention
Red polish indicates passion and power
Pale Pink
You don't want to stand out and prefer not to lead
You are feeling calm and quiet
You want to look neat and tidy
You enjoy having fun
You are romantic
Black
You can be rebellious
You are against the norm
You have a strong sexuality
You are sexy and mysterious
Fuchsia/Hot Pink
You are spicy, flirty and energetic
You are a classic female
Pink is the only colour that is clearly associated with women
Orange/Peach
You are lively and full of energy
You like attention and are not afraid of drawing it to you
This colour signifies the fall… a time of brightness
Chocolate Brown/Mocha
You are practical and spirited
This colour indicates confidence and authority
Shows that you are productive and powerful
You have a peaceful side to your personality
Maroon and Light Blue
You are sincere and sophisticated
You invite respect
Shows authority
Green/Yellow
You are amusing and delightful
You are enjoying life
You are keen on new things
Lavender/Bold Purple
Colour of Royalty
You are a lover of nice things and appearances
Wealth means a lot to you
A deep dark purple yells out 'I am drama'
French Manicure
You are classic and chic and don't need a strong colour to prove it
You are professional and glamorous
French Manicure is an all-time classic
Did you know one in every two women change their nail colour every two days? How about you?
There are so many reasons why we choose the colours we do. They can influence how we feel. It's amazing how much colour can say about a person. Colour motivates us more than we think. It's a new season!!!! Try a new colour and have fun with it. Discover a new part of you…you may like it!!  We look forward to helping you choose your next colour!
As always we welcome your feedback. You can connect with us via email or telephone, leave a comment right here on the site or click the contact tab at the bottom of the screen if you are reading this post on the website.
Until next time,
Jana
http://aperfectpinky.com/wp-content/uploads/2017/04/PP-Logo-300x150.png
0
0
Jana
http://aperfectpinky.com/wp-content/uploads/2017/04/PP-Logo-300x150.png
Jana
2015-04-09 12:42:19
2015-04-23 13:06:42
What Does Your Nail Polish Colour Say About You?