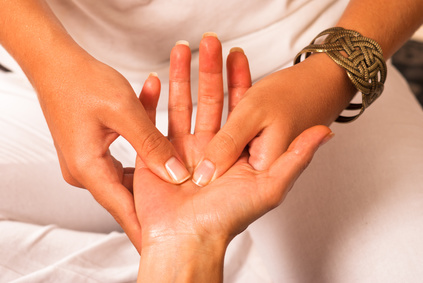 Massage is such a relaxing, beneficial part of many services that we provide here at A Perfect Pinky. We find that quite often the massage is our client's favourite part! It's a time to close your eyes and completely relax. Here are 3 services we provide that include a 10-20 minute massage as well as the massage benefits:
1. Massage with a Facial
Just like the rest of your body facial muscles require exercise to keep you looking younger. Facial massage helps to relieve the tension in the muscles in your face. When the muscles in your face tense up they are likely to aid in the creation of wrinkles. That is why they need to be massaged out regularly. Massage stimulates blood flow and plumps up slackened skin.
Decollete (neckline) massage is included in a facial treatment and is one of the most enjoyable parts. It's not only relaxing but it also has many benefits. Decollete massage is intensely hydrating and toning leaving your skin firmer, softer and feeling generally refreshed. Massage drainage techniques can aid in removing toxins from the skin leaving it brighter by adding vitality to a dulled complexion.
2. Massage with a Manicure
A hand and arm massage is typically relaxing and provides immediate health benefits. Studies have found that if you suffer from chronic arthritis in your hands, a regular hand and wrist massage can help to reduce pain and improve grip strength. If you use your hands for repetitive tasks such as typing, texting and you experience pain and cramping, consider having a hand massage. It's an easy, inexpensive, relaxing way to keep your hands pain free.
Hand massage also improves circulation. Stimulating circulation in your hands is important especially if you suffer from any conditions that would restrict blood-flow to your fingers. If you have any injuries such as ligament sprains and muscle strains, improved circulation to your injured tissues helps to speed up healing. Hand massage helps to loosen tight hand muscles and helps to reduce scar tissue that causes decreased finger and wrist mobility. It helps to improve your hand's range of motion and flexibility.
3. Massage with a Pedicure
The muscles in your feet get hardly any exercise and circulation is often impaired with tight and uncomfortable shoes. A 10-20 minute massage session can greatly improve circulation. A foot massage can help with joint pain and aid in recovery after an injury as well as reduce muscle soreness. When massage is combined with foot and ankle strengthening exercises and stretching it can help prevent injuries. Accidents do happen but strengthened and flexible ankle and feet will help to avoid unpleasant injuries.  Foot massage also helps to reduce fluid retention in the feet and ankles. Many people that are on their feet for long periods of time can have swelling in their feet and ankles. Regular massage will help increase circulation and aid in the reduction of the amount of swelling.
High blood pressure has become fairly common in women and men today. It can be caused by a number of things such as stress and unhealthy diet but in most cases it has no particular cause and is believed to be the result of environmental factors and genetics. Foot massage sessions will help improve mood, lessen anxiety and aid in lowering blood pressure due to relaxation.
As you can see there are so many benefits that massage has on all different parts of your body. These massages are like an 'added bonus' to the service you are already having. The benefits of massage for both physical and mental health are countless.
Reap the benefits of massage…enjoy, relax and relish the moment. YOU are worth it!! Book your appointment today!
As always, we welcome your feedback. You can connect with us via email or telephone, leave a comment right here on the site or click the contact tab at the bottom of the screen if you are reading this post on the website.  Join in the conversation on Facebook too!
Until next time,
Jana
http://aperfectpinky.com/wp-content/uploads/2017/04/PP-Logo-300x150.png
0
0
Jana
http://aperfectpinky.com/wp-content/uploads/2017/04/PP-Logo-300x150.png
Jana
2015-09-15 13:16:22
2015-10-07 12:23:23
3 Perfect Pinky Services that Include Massage - Massage Benefits