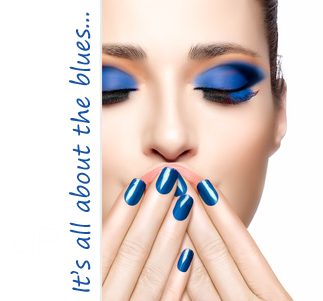 Stay current in the chicest trends in manicured nails. From the red carpet to the runway there are so many choices for a most current look. New colours and techniques are here for the fall and winter.  Here are 3 fall trends in manicures to explore.
Nail Shapes
Rounded nails were hot during the spring and summer and are here to stay for the fall.
But don't be afraid to do what suits you because square nails are still big and very much in style. Some young women are choosing long very pointed manicured nails which is also a very current look and seen on models.
2. Nail Size

Don't have a lot of time to look after your nails? Also big this spring and summer were shorter nails. This look works for all you working women.
3. Colour Trends
Darker blue nail polish is hot for the winter to match the ever so popular blue eyeshadow as seen above. Powder blue and teal blue are also very popular choices for this fall/winter season.
Grey nails are totally in for the fall. As light or as dark as you like …any shade goes. Greys look great on short rounded nails or long and pointed.
Red nail polish never really seems to go out of style. It is a very current look for the fall and winter. Red hues either darker or lighter and more dramatic palettes appear time and time again and here they are again back with a bang. Red nail polish is versatile and classic. Red might not be as common as some of the other trends this fall but red is a colour that should not be underestimated. Matching red lipstick and nails are appearing on a lot of the runway shows.
A lot of nail artists are using black polish to create a dramatic look on an already bright colour. Nail technicians are also putting a black strip up the centre of a white nail to create an interesting unique look.
Neutral Palettes – Once Again
You can never go wrong with a neutral palette. Have it painted on short rounded nails and you have a look that is so versatile. Whether you are going out to a ball game in the afternoon or hitting the city in the evening neutral nails will go with anything you want to wear and give you the trendy look you are looking for.
A young innocent look, endearing just on its own….a white polish brings the brightness of summer to those blah winter days.
Whatever trendy look you like, freshly manicured nails are sure to make you feel beautiful and special. Treat yourself today!!
What's your favourite trend this year? We welcome your questions and feedback. You can connect with us via email or telephone, leave a comment right here on the site or click the contact tab at the bottom of the screen if you are reading this post on the website.  Join in the conversation on Facebook too!
Until next time,
Jana
http://aperfectpinky.com/wp-content/uploads/2017/04/PP-Logo-300x150.png
0
0
Jana
http://aperfectpinky.com/wp-content/uploads/2017/04/PP-Logo-300x150.png
Jana
2015-10-07 12:20:54
2015-11-05 11:37:26
3 Fall Trends in Manicures