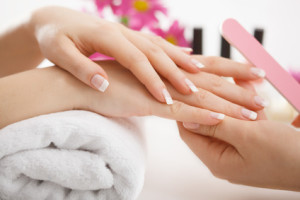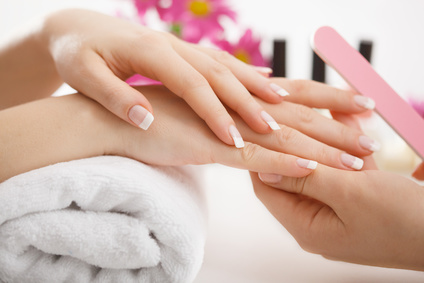 When you meet someone for the first time, they look at your face first and then your hands. How do your fingernails look? There are so many options today to have beautiful, healthy looking nails. The first thing you have to choose is the look you are after. Do you want your nails to look clean and manicured or glamorous? Usually this depends on what you are doing and where you are going. It's almost New Year's eve. Are your nails ready? Here are Perfect Pinky's top 3 nail services:
1. Manicure
A manicure is a fast, inexpensive way to get your nails looking clean, shaped and healthy looking in just over a half an hour. It doesn't matter how long or short your nails are. A manicure can make them look 100 percent better in no time. Although every manicurist has their own technique, generally speaking these are the steps most manicurists take:
Shape – with the help of the manicurist, you decide what shape is best for you. The things that will be considered are the length of your fingers, the shape of your fingers, the length and shape of your nail bed and lastly your lifestyle. Certain shapes will help to enhance the look of your fingers as well as give your nails durability.
Cuticle Cream – cuticle cream is applied to your cuticles to help soften them.
Soak – at this point you will soak your fingers in warm soapy water to ensure that the cuticles become soft.
Cuticle Shaping – the cuticles are now ready to be gently pushed back. This is done with a manicure tool.
Cuticle oil – cuticle oil is applied to moisturize the nail plate.
Exfoliation of hand and fingers – this will exfoliate the dead skin cells off your hand and fingers. It will give your hands a fresh, vibrant look.
Hand massage – this is the best part of the manicure. Not only is it totally relaxing, the hand cream will moisturize your hands. This is such a great treat for dry and dehydrated skin that takes such a beating.
Nail polish – with the help of your manicurist you will choose a colour. Whether you are looking for a natural look, something fun or totally glamorous we will find the right colour for you.
2. Shellac Manicure
There are just a couple of differences between a regular manicure and a shellac manicure.
You do not soak your fingernails in water. It is really important that the nail plate is kept very dry before applying the shellac polish. Any moisture may cause the shellac to adhere improperly and cause it to chip or peel.
Shellac looks like a polish but after each coat that is applied it is cured under a UV light.
There are so many different colours to choose from….whether it's reds, pinks, blues or natural, we have the right shade for you. Although this service is a little more expensive, people tend to choose shellac polish because it dries instantly and can stays on perfectly for up to 2 weeks.
3. Sculptured Nails
Sculptured nails are a great choice if you want little to no maintenance. They are expertly applied and sculptured for the most nature looking nail. This service and product is the answer if you are:
A nail biter
Your nails are really short
Your nails peel and chip
At Perfect Pinky we use the highest quality products to ensure the safety and well-being of your natural nail. These are the steps to apply Sculptured nails:
Polish/Oil Removal – with a cotton pad and some acetone, the nail technician will remove any polish or oils from the nail plate.
Smoothing – with a nail file the nail technician will smooth out the ends of the nail plate
Etching – gently with a nail file, the technician will remove any build-up of dead cells on your nail plate. This is called etching and is done with a lot of care to make sure the natural nail is well taken care of.
Nail bonding – a nail bonding agent is applied to the nail. This is NOT a glue. It also helps to clean and prep the nail for application of the acrylic.
Acrylic application – the tip of the nail is white and the nail plate is a natural pink colour. This makes the nail look clean and natural.
Shaping – the acrylic nail is now filed and buffed to the shape and length of your choice. Buffing makes it look smooth and shiny.
Cleaning – the acrylic nail is now cleaned out underneath to make it thin and natural looking.
Cuticle oil – cuticle oil is now applied to moisturize the cuticle and shine the nail.
Hand cream – is applied so your hands look as beautiful as your nails.
Polish – the acrylic nail is now complete and ready for polish.
Whether it's for a holiday celebration, a big night put on the town or a relaxing evening at home, having your hands and fingernails done and looking fabulous is such a great feeling.
So go ahead, make your appointment and go into the New Year looking great and feeling fabulous – not for anybody else but YOU – because YOU are worth it!
What's your favourite manicure? We welcome your questions and feedback. You can connect with us via email or telephone, leave a comment right here on the site or click the contact tab at the bottom of the screen if you are reading this post on the website.  Join in the conversation on Facebook too!
Happy New Year!!! Cheers,
Jana
http://aperfectpinky.com/wp-content/uploads/2017/04/PP-Logo-300x150.png
0
0
Jana
http://aperfectpinky.com/wp-content/uploads/2017/04/PP-Logo-300x150.png
Jana
2015-12-30 11:52:46
2016-01-26 10:15:23
Ready for New Year's Eve? Perfect Pinky's Top 3 Nail Services