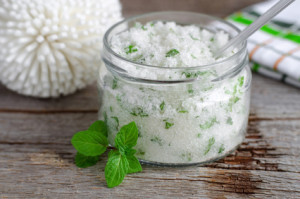 The cold weather has arrived and almost all of us are suffering from dry, cracked skin. Winter is by far the most critical time for dry hands and feet. It doesn't seem to matter how much cream we put on it almost seems impossible to get the moisture back into our hands and feet that they need. Sometimes the chapped dry skin can even be extremely painful.  When you feel like you've tried every store-bought option, sometimes it's best to go with a home remedy idea instead.
Here are 10 Home Remedy Ideas to help clear up and soothe your dry skin:
PETROLEUM JELLY: We all have this product in our household and little did we know we could use it for so many things. Rub some petroleum jelly into your hands at night before you go to sleep. Petroleum jelly fills in the dry cracks and allows the skin to heal and repair itself as you sleep. The cold air leads to rapid evaporation of the moisture in your hands so putting on cotton gloves to seal in the moisture can also really help.
OLIVE OIL: Not only a fabulous healthy product for cooking but also a great moisturizer for your hands. Olive oil helps to reduce dryness and moisturize the skin. You can use the same method as the petroleum jelly.
VITAMIN E: Are your hands cracked and bleeding? Try breaking open a couple of Vitamin E capsules and rub your hands well with the powder. The powder seeps into the cracks and helps skin to repair and regenerate itself.
ALOE VERA GEL: This common household plant is not only good for burns. Apply it to the cracks on your hands and feet daily. The gel soothes the skin and gives a cooling effect. This will help to reduce the pain if the cracks are hurting you.
CLARIFIED BUTTER: Clarified butter or ghee is one of the best home remedies for dry hands. Take pure ghee and rub it into your hands 2-3 times per day. The ghee not only moisturizes but also soothes minor cuts and cracks.
RUBBER GLOVES: In order for cracks to heal you have to prevent them from being exposed to harsh chemicals found in detergents. Always wear gloves when dealing with household chemicals or while washing dishes.
Specifically for Cracked Heels:
SESAME OIL AND OLIVE OIL: Both of these oils are a great source of Vitamin E and moisturize the skin well. Try massaging the oil into the heels on your feet before going to bed at night and then wearing a light cotton sock over. The oil will penetrate and deeply moisturize while you sleep.
RIPE BANANAS: Over-ripe bananas, when the skin has almost turned black, can be mashed and applied to your cracked heals. Let it stay on for about 15-20 minutes before removing it.  You can also add AVOCADO to the ripened bananas for very dry heals. Avocados contain essential oils that can help to heal your heels.
ROSEWATER AND GLYCERIN: Mix equal amounts of rosewater and glycerin and shake well to make a mixture. Apply this mixture to your feet and heels regularly to help soothe the skin and heal them.
LEMON SCRUB: This is a great gentle exfoliate but will also help to repair and moisturize cracked dry feet. This is how you do it: Soak feet in warm water, remove them from the water and dry them. Squeeze lemon into a bowl and add some Vaseline.  Mix well with your fingertips and massage the mixture into your feet and heels until it has soaked in. This should be done on a daily basis for best results.
Whatever remedy you decide to try the key factor is to do it on a daily basis. Applying your moisturizing home remedy product or cream morning and night and regularly exfoliating will get you the best results. Remember that overly dry skin did not happen overnight so it may take a few days to get it back into shape. You've only got two hands and two feet so they are well worth looking after!
We welcome your questions and feedback. You can connect with us via email or telephone, leave a comment right here on the site or click the contact tab at the bottom of the screen if you are reading this post on the website.  Join in the conversation on Facebook too!
Until next time,
Jana
http://aperfectpinky.com/wp-content/uploads/2017/04/PP-Logo-300x150.png
0
0
Jana
http://aperfectpinky.com/wp-content/uploads/2017/04/PP-Logo-300x150.png
Jana
2016-01-26 10:14:11
2016-02-22 11:08:44
10 Home Remedy Ideas for Winter Dry Skin