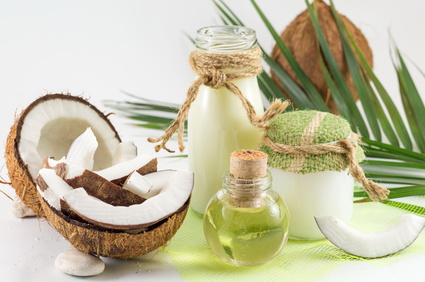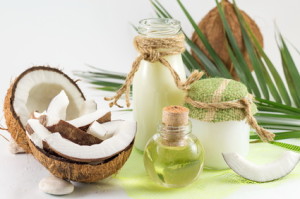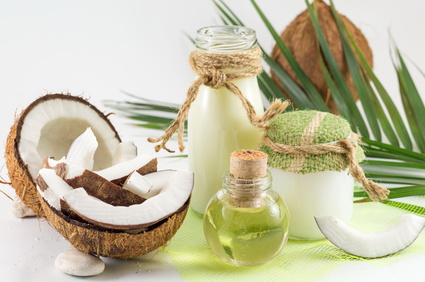 Coconut oil is used in many of our beauty products. It's has natural antibacterial and antifungal properties. Coconut oil is a fantastic moisturizer for our skin; it can penetrate better than other oils and it smells delicious.
There are many uses for raw, organic virgin coconut oil right in your own home that will save you spending a fortune on other store-bought products.
Here are our Top 10 Natural Beauty Tricks using Coconut Oil:
1. As a hand cream:
With a jar of coconut oil by your sink in your kitchen you can forget about those fancy hand creams. Putting a little bit on daily will keep your hands soft and moist.
2. As a cheek bone highlighter:
Put a small amount of coconut oil on top of your makeup and leave it. It will make your skin glow which is why many natural makeup brands use it as a base ingredient.
3. To shave your legs:
Most women like using a shaving cream but they are expensive and full of chemicals. Coconut oil is inexpensive and smells wonderful. Its natural skin smoothing properties will leave your legs looking and feeling deeply moisturized without any greasy residue.
4. As a deep conditioner:
Many conditioners contain coconut oil. It penetrates hair and helps to prevent protein loss. As a treatment, put a small amount in your hair, comb it and put it into a loose bun. Put a towel over your pillow or wear a shower cap and leave the coconut oil on overnight. In the morning shampoo as usual and feel the difference in your soft and luscious locks!
5. To remove eye makeup:
The oil does a great job breaking down the waxy eye makeup and leaves the eye area hydrated. Put a small amount of coconut oil on a cotton pad and gently swipe over the eye area.  Removes all makeup without the harsh sting of some other makeup removers.
6. As a body moisturizer:
Organic virgin coconut oil will increase hydration and reduce water loss in seriously dry skin. Organic virgin coconut oil can also speed up wound healing. It will leave your skin nourished, smooth and smelling fabulous.
7. To clean your face:
Gently massage a small amount all over your face and neck to remove make up and everyday bacteria. When you're done, wash off the residue with your normal cleanser. Coconut oil is antibacterial, anti-fungal and moisturizing. Organic virgin coconut oil is also a fantastic night-time moisturizer. Is your skin oily and acne prone? Than this may not be good for you to use.
8. To add shine:
A tiny amount of coconut oil on the ends of your hair will give you the shine you've been longing for.
9. In a body scrub:
Tired of paying large amounts of money for your store-bought body scrub? Try making your own.  Melt ½ cup coconut oil at a low heat and pour over 1 cup of brown sugar, salt or used coffee grounds and stir well.  Add some pure vanilla extract for fragrance. This is wonderfully moisturizing, inexpensive and great for your skin!
10. For Body Massage:
Organic Virgin coconut oil is slippery, skin friendly and one of the best moisturizers. Use it to rub down your entire body and massage it in. Your skin will glow for the day.
Say good bye to harmful chemicals and hello to one of nature's best beauty products!
And if you're in need of a beautiful manicure, pedicure or hair removal to go with your radiant glowing skin, our team of skilled estheticians are ready for you! We offer a full range of services in our crystal clean facility right on Yonge Street in Aurora.
We welcome your questions and feedback. You can connect with us via email or telephone, leave a comment right here on the site or click the contact tab at the bottom of the screen if you are reading this post on the website.  Join in the conversation on Facebook too!
Until next time,
Jana
http://aperfectpinky.com/wp-content/uploads/2016/06/Fotolia_106247223_XS.jpg
282
425
Jana
http://aperfectpinky.com/wp-content/uploads/2017/04/PP-Logo-300x150.png
Jana
2016-06-22 11:24:37
2016-10-12 10:51:06
Organic Virgin Coconut Oil: Top 10 Natural Beauty tips!