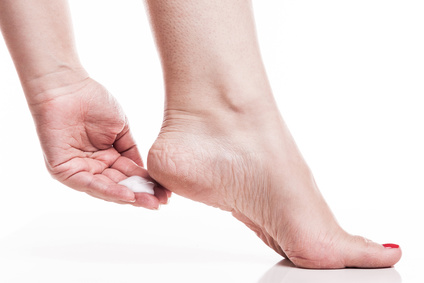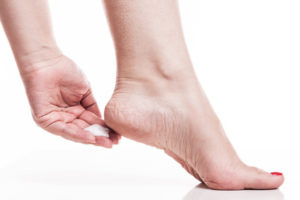 As we head into the colder months, our feet will be taking us indoors.  We'll be putting away our summer sandals and flip flops, and slipping into shoes, boots and cozy slippers.  When our feet are somewhat exposed to the elements in the warmer months, some of us discover that they may feel a bit drier and rough feeling heading into winter.
Did you know the skin on our feet have no oil glands?
We have sebaceous glands all over our bodies, except on our palms and soles of our feet.  Therefore our feet do not produce natural oils and moisture like the rest of our body. This is one of the main reasons for dry feet, however there are many reasons for dry feet at any time of the year.
Our age is definitely a factor.  As we age, our body produces less and less moisture, resulting in more and more dryness. Some medications that we may take can also deplete our natural ability to moisturize.  Or simply not taking care of our feet by applying moisturizer at home or having a monthly pedicure (which is the best way to take care of our feet).
Here are a few other things that can contribute to dry feet:
extremely hot showers and/or baths
using soap that is harsh/non-moisturizing
being in the sun for a lengthy period
some medical conditions such as thyroid problems or diabetes
moderate to severe skin conditions such as psoriasis or eczema
Dry feet can also lead to worse foot deficiencies.   Cracked heels are one of the most painful foot conditions.  This problem can cause itchy and burning sensations in the heel and can inhibit walking since it is so painful and sore. A cracked heel is created when the skin on your foot becomes thick and/ or rough from not maintaining them.  The skin may start to peel and flake, thus creating a heel fissure (crack on the heel).
In some cases, medical treatment may be required if the problem has gone on too long and walking is too difficult.   Medical grade ointments, creams and/or other medications may be prescribed by your doctor if needed.
What can you do to prevent foot moisture problems?
The best defence against foot problems is to be diligent with getting a monthly pedicure and to continue the maintenance of your feet at home.   Your esthetician knows how to make your feet feel and look wonderful.  They are able to see any specific conditions or problems that may be developing with your feet.  Suggestions can be given as to what you can do to help fix or eliminate the problems that they detect.  They can also advise you as to what lotions, soaps and other things to apply, or methods you can perform at home to keep your feet in tip top condition.
Keeping yourself hydrated can also help
Drinking water for hydration, using mild soap and applying proper foot lotion are all things that you can do to help take care of your feet.  And as we enter these cooler months, put some cozy socks on after you apply your lotion as that will help in the absorption process.
Hopefully by the time the flip flops reappear our feet will look and feel spectacular!
We welcome your questions and feedback. You can connect with us via email or telephone, leave a comment right here on the site or click the contact tab at the bottom of the screen if you are reading this post on the website.  Join in the conversation on Facebook too!
Until next time,
Jana
http://aperfectpinky.com/wp-content/uploads/2016/10/Dry-Feet.jpg
283
424
Jana
http://aperfectpinky.com/wp-content/uploads/2017/04/PP-Logo-300x150.png
Jana
2016-10-12 10:42:27
2016-11-22 14:07:30
Why Do Our Feet Get Dry/Cracked?