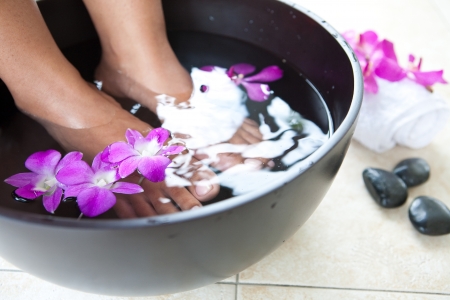 Our feet have been hibernating in boots and socks all winter long.  It's time for them to emerge! Spring and summer mean it's time for a pedicure to get your feet looking and feeling their best.  And with our feet cooped up for so long, some of us may have acquired the dreaded and painful ingrown toenail.
What is an Ingrown Toenail?
An ingrown toenail is a problem usually occurring in the big toe, where the toenail grows into the skin instead of over it.  It can become painful and swollen.  An infection can occur if left untreated and the nail continues to grow like this.
Preventing Ingrown Toenails is Easy
Let's discuss a few ways to do so. Here are a few tips to prevent this painful condition:
Shape and Length of Toenails:
Be sure to cut toenails straight across, as well as not too short.  Toenails that are trimmed too short can create pressure from your shoe to direct the nail to grow downward into the skin.  Trimming them straight across and even with the tips of your toes is the best when preventing ingrown toenails
Buy Properly Fitted Footwear:
Shoes that are too narrow or too tight can create pressure on your toes and cause ingrown toenails. The best solution is to shop for shoes later in the day when your feet are at their largest.  This is when you will get a shoe that fits you properly.
Foot Hygiene:
Keep your feet clean and dry to prevent ingrown toenails.  Moist, sweaty feet are a breeding ground for this and other foot conditions.  Keep footwear and socks dry as much as possible to prevent a dirty environment for your feet.
Know Your Feet:
Check your feet daily. This may sound silly but people with conditions such as diabetes or poor blood flow to their feet are more vulnerable in acquiring ingrown toenails. The more you know, the better you can take care of yourself and your feet.
Easing the Pain of Ingrown Toenails
If you think you may have an ingrown toenail here are a few things you can try to help ease the pain.
Soak your foot in warm water for about 15 minutes a few times a day with either some Epsom salts or just plain table salt. Salt water aids in the reduction of bacteria growth.
If able, dry your foot and gently lift the corner of the nail after soaking and apply an antibiotic cream.  Ask a pharmacist which cream would be best.
Bandage your toe to protect it and wear open toed or loose fitting shoes so your toe can have some extra room to heal.
If the pain and pressure lasts longer than 2 or 3 days, it's probably best to see your doctor.
Our feet carry us everywhere we go – we cannot take them for granted! Taking good care of our feet is of the utmost importance in our overall health.
Hopefully these tips to prevent and treat ingrown toenails will be beneficial to you!
We welcome your questions and feedback. You can connect with us via email or telephone, leave a comment right here on the site or click the contact tab at the bottom of the screen if you are reading this post on the website.  Join in the conversation on Facebook too!
Here's to summer ready lips!
Jana
http://aperfectpinky.com/wp-content/uploads/2017/06/preventing-ingrown-toenails.jpg
300
450
Jana
http://aperfectpinky.com/wp-content/uploads/2017/04/PP-Logo-300x150.png
Jana
2017-06-07 10:39:44
2017-06-07 10:39:44
Treating & Preventing Ingrown Toenails