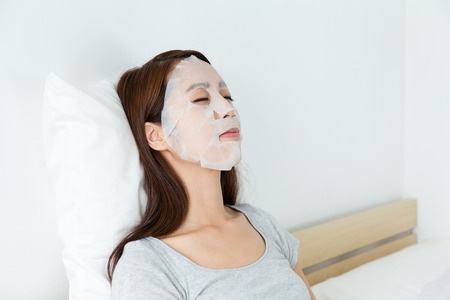 Beauty sheet masks are the latest craze in facial regimes.  Instead of applying a paste type mask, sheet masks are mess-free and chalk full of ingredients that aid the skin in hydration, brightening, tightening and healing.  They can be used during a facial or on their own after finishing your cleansing regime.
Individually packaged, the one time use of this cloth-like mask, rich in beneficial serums, can help to eliminate toxins, reduce wrinkles and even heal wounds caused by acne.  The following are examples of sheet masks introduced into the world of skin care.  Have a read and see which one would suit your skin best.
Pearl Powder
Pearl powder is easily absorbed into the skin and is a natural source of calcium.  It also contains multiple nutrients to tighten and brighten the skin.  These nutrients contain wrinkle diminishing properties as well as help to reduce various pigmentation problems such as dark spots or acne scars.  This beauty sheet mask smoothes the texture of the skin, making you feel and appear more youthful.
Snail
The skin stress buster! Snail mucin enriched sheet masks contain skin softening emollients which regenerate hydration in dry, flaky skin.  Since snail mucin contains glycolic acid, it soothes the face as it hydrates.  Glycolic acid smoothes and evens out skin tone while promoting elastin and collagen reproduction.
Pomegranate
Pomegranate seed oil is not only beneficial to consume, but also invigorating for our skin.  Since the oil is loaded with multiple minerals and vitamins, such as vitamin B1 and B2, the fruit creates a firm and supple skin texture.  The pomegranate sheet mask, therefore, aids in slowing down the aging process and reducing the appearance of skin damage from years of sun exposure.
Calming Aloe
A calming sheet mask infused with aloe and/or green tea leaf extract can leave your skin calm and comforted in just 15 minutes.  Applied chilled, this mask is beneficial to inflamed skin caused by several types of irritants such as detergents, or harsh environmental conditions.  Aloe Vera also contains wound healing hormones effective in helping to eliminate skin conditions such as acne or eczema.  A mask with so many benefits!
Charcoal
A mask for oily skin, charcoal products are great for those who are prone to break outs.  Charcoal pulls excess oil from the skin, drawing with it bacteria and other toxins.  After receiving a thorough deep cleansing facial, a charcoal sheet mask will detoxify the skin and help promote a flawless complexion.  A great mask for teens!
After using any mask, apply a moisturizer that is suitable for your skin type and that contains an SPF. This will help to seal in all the benefits of the nutrients within each mask.  Your skin will feel rejuvenated and refreshed!
If you'd like to take your skin care to the next level, we offer a variety of facial services to have your skin looking and feeling its best.
We welcome your questions and feedback. You can connect with us via email or telephone.  Don`t forgot to follow us on Facebook and Instagram for the latest trends and special offers!
Til next time,
Phyllis
http://aperfectpinky.com/wp-content/uploads/2017/12/the-best-sheet-mask-for-your-skin.jpg
300
450
Jana
http://aperfectpinky.com/wp-content/uploads/2017/04/PP-Logo-300x150.png
Jana
2017-12-12 12:30:53
2017-12-12 12:53:00
What Beauty Sheet Mask Is Best For You?