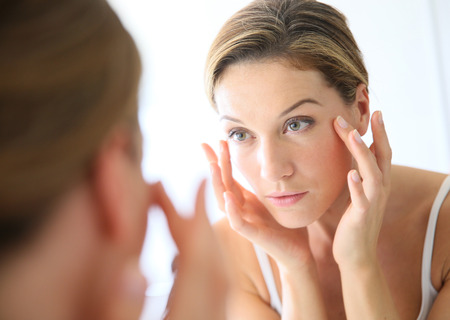 Our skin is our largest organ. Taking care of it is essential to our general well-being.  Therefore we need to be actively aware of any skin changes that occur.  Some of these changes can indicate or give clues as to what may be happening within our body.  Skin discoloration, a new growth, or even a difference in texture may be a sign of an illness or injury within us.  The following are some skin changes or conditions that may signal something worth looking into with a doctor.
New Growths
Any new mark or raised bump on the surface of our skin should always be seen by a doctor.  We are already aware that any moles we have should be routinely checked, as they could be a sign of skin cancer.  But there are some growths that can signal an internal issue.  Acne can suggest a hormone level problem, especially in women.  In extreme cases, acne along the jawline could indicate having polycystic ovarian syndrome, a condition that can also lead to thinning of the hair and weight changes in women.
Rashes and Other Textures
A rash or raised texture on the skin can signal an allergy to food, medication or the environment you are in.  However, other symptoms that can accompany a rash such as a fever or joint pain, may indicate an internal infection or condition.
For example, a purple tinged rash on the lower legs can be a sign of hepatitis C, or, not as common, a velvety rash could be a warning sign of stomach or liver cancer. Very dry, itchy patches of skin can be a sign of hormonal problems, especially in regards to the thyroid.  Or even eczema, a condition causing itchy, red patches of skin can be a signal of something internal going on, possibly joint issues or sleep problems.
Skin Discoloration
An altering in skin colour can be a symptom of various conditions worth looking into.  A yellowing of the skin, and the whites of the eyes, may signal liver failure.  A darkening of the skin, primarily scars and joints (knees and elbows) could be an indication of hormonal diseases, such as Addison's disease.
Nail Changes
The shape or colour of our nails can also indicate an internal organ issue.  Dry, brittle nails could indicate a thyroid issue.  Nails that appear concave my indicate heart disease or a liver disorder called hemachromatosis, where the body absorbs too much iron.  Discoloured nails could indicate a plethora of possible health ailments.  Blueish tinged nails could mean low oxygen levels in the blood, whereas white nails may indicate a liver disease like hepatitis.
In short, pay attention to your body and look for skin changes.  Don't ignore or overlook something new on your skin.  It is always best to consult your doctor if you have any doubt about a rash or a mark that you are unfamiliar with.  It just may be an indication of something bigger going on with you.
We welcome your questions and feedback. You can connect with us via email or telephone.  Don`t forgot to follow us on Facebook and Instagram for the latest trends and special offers!
Til next time,
Phyllis
http://aperfectpinky.com/wp-content/uploads/2017/10/check-for-skin-changes.jpg
320
450
Jana
http://aperfectpinky.com/wp-content/uploads/2017/04/PP-Logo-300x150.png
Jana
2017-10-18 09:00:25
2017-10-17 20:58:36
Paying Attention to Skin Changes